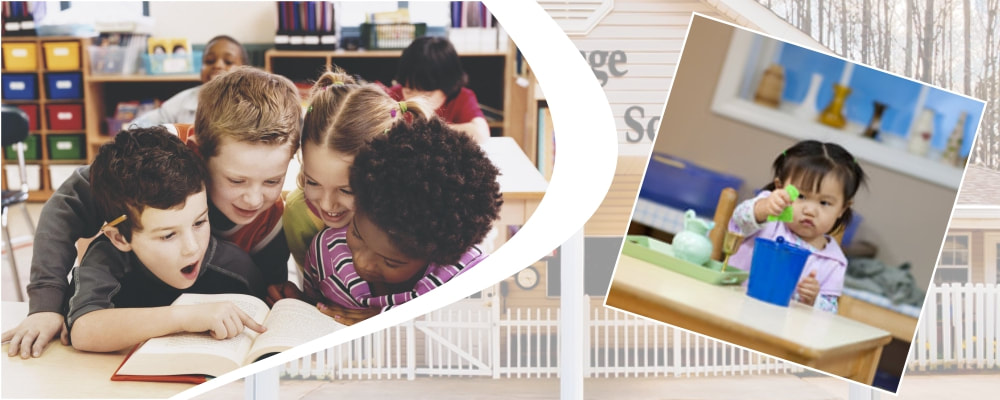 A community of people assumes kindergarten as a child's first year of school. However, kindergarten is the third year of education for Montessori primary school students. This unique "Leadership Year," better known as "Capstone Year," is the fruition of the growth, exploration, and liberty your preschool-aged kid has already attained.
By this moment, your child has made friends and mastered numerous skills that kids starting kindergarten haven't discovered yet. The Montessori kindergarten in Georgia, year brings the prior learning of your child to fruition and sets them up for lifelong success. Simply put, preschools or kindergarten is something you as a parent never want your child to miss out on.
The Importance Of Kindergarten On Child's Practical Life Activities
Focuses On Key Developmental Stages
The curriculum of Montessori focuses on key developmental milestones in children between three and five years. 3-5 years of children concentrate on honing big muscles and body language skills. Four-year-old kids develop fine motor skills and complete everyday activities, such as eating, cleaning, arts & crafts. Through travels and special events, preschoolers enlarge their learning knowledge in their communities.
Encourages Cooperative Play
Since the instructor does not "run" the classroom, students on their own guide their movements throughout the day. This inspires kids to share and operate cooperatively to explore the eclectic stations in the Montessori preschools in Georgia. By the very nature of the atmosphere, kids in Montessori classrooms learn to respect each other and create a feeling of community.
Learning Is Child-Centric
Montessori pre-kindergarten pupils appreciate a classroom and curriculum explicitly designed around their specific needs and abilities. This allows them to explore and discover at their own pace and terms. Everything in the preschools is within reach of the kid. Furniture is sized for children so that they can sit comfortably. Besides, more aged children in the class work with their younger ones, thereby mentoring comes from peers like teachers in the classroom.
Kids Naturally Learn Self-Discipline
Montessori lets children choose the activities they are interested in. Moreover, they also choose how long they will work on a specific task. The class of Montessori kindergarten in Georgia has particular "ground rules" that the instructor and students consistently enforce. This environment inherently introduces children to self-discipline. It refines essential aptitudes like engagement, self-control, and motivation as well.
Classroom Environment Teaches Order
All objects, as well as activities, have explicit locations on the shelves of a Montessori classroom. When kids are done with an activity, they are required to place objects back into their right places. This sense of order facilitates the learning process, teaches self-discipline, and caters to your young child's innate requirement for an orderly setting. When kids work and play in a neat area, they are able to unleash their creativity and concentrate entirely on the learning process.
Teachers Foster The Learning Experience
Teachers in the Montessori kindergarten in Georgia classroom are "companions" to foster the learning experience instead of determining its appearance. Teachers take the information from the kids in the classroom to ensure the ground rules are followed. They encourage students to perform tasks at their own pace. However, teachers do not select the classroom pace strictly for students. It's the right of every child as teachers seek to remain unobtrusive.
Learning Method Sparks Creativity
Creativity is encouraged since kids are entitled to determine their activities and work at them on their specific terms. Children perform tasks for the joy of the work without thinking of the end result. This lets them focus better on the process than the result – an innate path to spark creativity. Broad variety culture exposure also enables children to enlarge their thinking concerning the world. Moreover, it also facilitates addressing those notions in various ways.
Maybe More Efficacious in Inventing Certain Skills
The research was conducted that examined the abilities of children who have been taught in a Montessori school had higher math and reading skills than their counterparts in public schools. Apart from math and reading skills that appeared to be more on par in children who attended Montessori kindergarten in Georgia, social development appeared to be higher in 12 years old Montessori students than students who didn't enroll in Kindergarten.
The Final Thought!
Every phase of life has its own importance. However, the age between 3-5 years is considered crucial as your child learns a lot in this phase. You yourself may not be able to teach them everything, and that's a fact. This is why the concept of Montessori kindergarten in Georgia and preschools evolved. Your child learns a lot in the year between three to five. Why not let them spread their wings and learn and explore on their own.